Rotary Group Ghirlandina supports the 15th edition of the Festival Philosophy

From Friday 18 to Sunday, September 20 in Modena, Carpi and Sassuolo nearly 200 appointments between lectures, exhibitions, concerts, shows and philosophical dinners. Dedicated to the theme inherit, festivalfilosofia 2015, offers theme the widespread perception that it is interrupted cultural continuity, both in relations between generations, as the transmission of knowledge and values. The fifteenth edition of the festival will include lectures, exhibitions, performances, readings, children's games and philosophical dinners. The appointments will be almost 200 and all free.
Again, for the third consecutive year, the eight Rotary Club Group Ghirlandina (Carpi, Castelvetro, Frignano, Modena, Modena Muratori, Mirandola, Sassuolo, Vignola Castelfranco E., Bazzano) are reconfirmed as donors, "adopting" a lesson Master: Lectio Rotary will be that of the essayist Federico Rampini, expected in Modena, Piazza Grande, Sunday, September 20 at 15.00.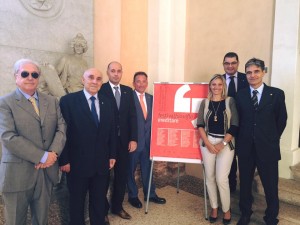 Federico Rampini was deputy editor of "Il Sole 24 Ore". Since 2009 he is one of the leading columnists of "The Republic", for which he was sent to Paris, Brussels, San Francisco, Beijing and New York. Keen observer of trends in the global economy, has studied particularly the eruption of the Asian economies on the world stage, and the consequences of the economic crisis, the credit, as on daily life. Among his recent books: Bankers. History of the new global banditry (Milan, 2013); The trap of austerity. Because the ideology of rigor stops shooting (Roma-Bari 2014); Network host (Milan 2014); All you need is love. The economy explained by the songs of the Beatles (Milan 2014).
Fourteen years with record results for a major initiative of public education and modern communication of knowledge, leading philosophy in the squares of the three cities of Emilia, with important impacts cultural and social, but also economic. From 34,000 admissions in 2001 it has reached to over 206,000 in 2014, with a total of more than 1,800,000 total admissions in the first 14 editions. The qualitative data confirm the national and international festivalfilosofia: more than half of the participants come from outside the province each year, mainly from central north, but it has significant operations in the south and from the islands and a growing number of foreign attendance. A marked increase especially the young, who make up nearly 25% of the public with an average age of 44 years.
Rotary has always been close to the territory, it decided two years ago to sponsor the event, taking the lessons of Umberto Galiberti (2013) by Alessandro Baricco (2014) and Federico Rampini (2015).