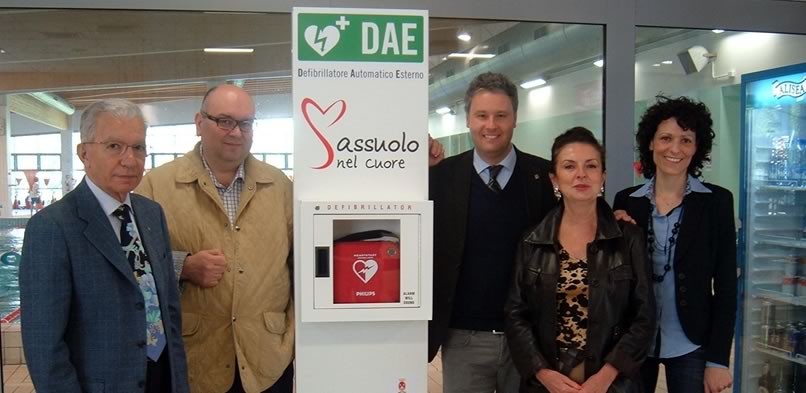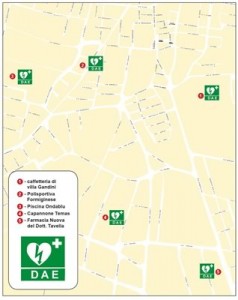 The "Defibrillator Project" is the jewel in the crown of Sassuolo Rotary Club, set up in partnership with Sassuolo town council and extended also to neighbouring municipal areas. There are now some 23 life-saving defibrillators dotted across the municipal area
Sassuolo at heart – as the project is named in the Sassuolo area – is the first part of the project funded by our club and made possible also thanks to support from Sassuolo council and Modena Soccorso 118.
It consists of the installation of 10 automatic external defibrillators in ten key areas dotted across Sassuolo – busy public places where the devices are highly visible, thanks also to clear signalling and their positioning on brightly coloured display totems. Naturally, the project also includes suitable staff training to ensure correct defibrillator usage.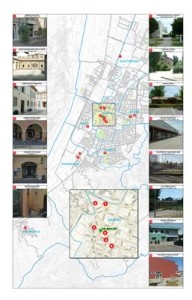 The 11 locations in Sassuolo are: the council registrar's office, the Pharmacy in via Cesare Battisti, the sports club, the Carani theatre, the Amico di Braida Park, the Albero d'Oro park, the council library, the Incontri bookshop in Piazza Libertà, the San Michele dei Mucchietti sports centre, the House in the Park 2 in the Ducal Palace gardens and the Onda Blu swimming pool in via Nievo.
In addition, a defibrillator was donated to the sporting organisation Atletica MDS Panaria, taking the number of life-saving devices in and around Sassuolo to 12.
Sassuolo Rotary Club has also extended the initiative, donating additional defibrillators to the municipalities of Fiorano (3 defibrillators: at the bowling club, the "Ferrari" sports centre and the Salse di Nirano nature reserve), Formigine (4 totems at: Nuova pharmacy, Formiginese sports club, the Onda Blu municipal pool and Villa Gandini) and Maranello (4 installations: at the Made in Red Cafè, at the municipal pharmacy, at the Il Cavallino restaurant and inside the Ferrari museum).